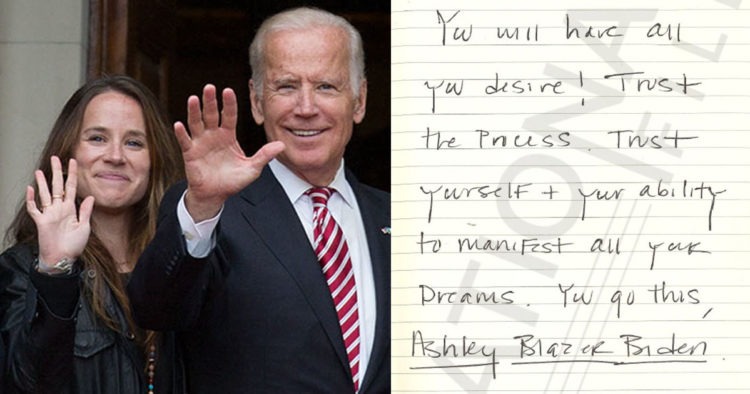 Published:

October 28th 2020
Jill and Joe Bidens daughter left her personal diary behind in a rental home and now we get a confirmation on what is on Bidens son Hunters laptop. Trama and sexual issues in her diary in entries. Very private personal information about her therapy and issues with her mother.
Jill is described as emotionally unavailable and possibly distancing herself from her daughter for inappropriate relationship between Joe Biden, Ashley Biden dad and daughter. She writes details of having to shower with her father and having to be wiped too late in the game.
Also indicating that instead of her mother protecting her she distanced herself emotionally to Ashley knowing the family predilection for underaged girls. Jill certainly knew her husband had a predilection for underage females because of the media push to show pictures and video of him smelling and touching young girls. Intimate messages and writings from her own children would make this very clear to the world what Jill knew and by when.
She also recalls to being sexualized at a very young age, somewhere about 5 years, with Caroline referring to her cousin Caroline Biden. Implying that family or someone close to the family made her feel sexualized with her cousin.
This certainly not something her mother would not know. The family knows and many printed pictures of text messages from Hunter about the family knowing of his inappropriate relationship with girls who were underage. Text messages mention that his mother Jill is the one who made the accusations and why he could no longer be around "unnamed daugher". As to who's daughter was redacted.
Even though it was redacted for America Joe and Jill knew and they helped cover it up. Find the messages here. Messages that again mention Jill saying that he was sexually inappropriate with kids. and that he wont be aloud around the daughter unless his dad Joe is around as well. Everything is indicating that Jill knew, Joe was in denial but both were in cover up mode.
As a mother looking at this you can't help but to be sick to your stomach that this is who your married to, this is also what you created and brought into the world and are now forced to clean up after. Her clean good mom image is now shattering all over and the world is watching it.
The world doesn't care if it's your beloved husband or son when little girls are their victims. The world sees the images of girls being sexually assaulted by rich powerful men and the loving mothers who help cover it up as sick one in the same.
Written by Marie